Promoting your products and services in DronesDrones.com
Are you a UAV platform manufacturer, or a distributor, or a service provider or a technology / components supplier to the industry?
So you can really consider the opportunity of being there with your company, your brand, your products and services.
At DronesDrones.com we only publish 20 advertisers or less at any given time, including our own services' advertising.
Every advertisement is visible in a rotation in every page of this site.
The price is:
$ 124.00, monthly, to advertise in the whole website, in 100% of DronesDrones.com pages, rotating with overall 20 advertisers. Invoice and payment in advance every 3 months.
For a 12 months subscription you can enjoy a 20% discount, that is $ 1,190.40 a year instead of $ 1,488.00, that is, only $ 99.20 a month. In this case the full payment in advance is required.
In case you want to multiply your advertisement frequency and therefore your visibility (for example rotating 2/20 or 10/20 instead of 1/20) just multiply the rate (for example 2 * $ 124.00 or 10 * $ 124.00).
Please note that, together with your presence and visibility in the website, your company and your brand will enjoy a massive communication activity through our social networks' accounts, and many website pages and visibility dedicated to your events, your products, your company.
As a regular advertiser, just send us your press releases on weekly basis and we'll publish them in the blog, in your dedicated page, and through our twitter account (@dronesdronescom).
Being visible in DronesDrones.com means much more than simply "advertising".
To know more, get in touch NOW with DronesDrones.com advertising department

Advertising banners specification
When sending us the banners, please follow the following instruction:
Banner file format: PNG preferably, or else JPG or other picture;
Size: please send us all of the 3 following sizes; we'll publish all of them, in different areas of the page:


A = width 900 pixels x height 150 pixels
B = width 900 pixels x height (min. 150 to max. 900 pixels)
C = width 450 pixels x height 450 pixels
In case you can send us only 1 or 2 sizes it's OK, but you'll miss the opportunity to have your advertisement displayed in many points of the DronesDrones.com site.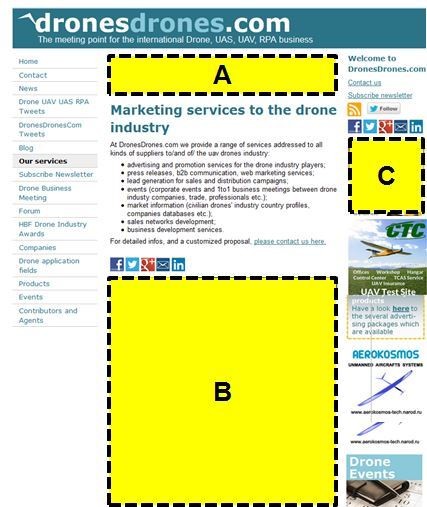 We are looking for Agents, worldwide
There's a wide range of services we deliver. Advertising, informations, lead generation campaigns, events etc.: see some details here.
In case you know the drone industry, or you are willing to develop your business with us, by promoting DD services in your country, let's get in touch now!