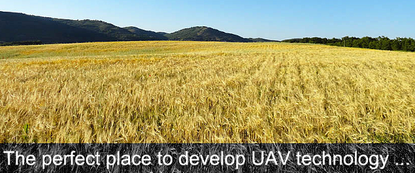 CATUAV, the Spanish manufacturer of unmanned systems, is now building its new infrastructure dedicated to the development and testing of UAV systems: CATUAV Tech Center (CTC), which is under construction right now and will be operative by June 2014.
CTC is a perfect place to develope UAV technology: located 45 km north of Barcelona, it provides excellent conditions for UAV development and testing for companies, universities and interested individuals.
These new facilities offer all you need to speed up your UAV design and test process, including especially dedicated UAV friendly airspace free of obstacles and interferences in a peaceful environment, where you can fully concentrate on your development.
This property is outside any area of special airspace restriction and therefore allows the operation of UAV, provided they respect the maximum height of operation (1.000 ft AGL), which is perfectly sufficient for most operations.
CATUAV is negotiating with national authorities about a restricted airspace that would allow an even higher ceiling for UAV tests in this area. CTC is located in a place rich in diversity and remote sensing targets.
The surrounding area has many different types of crops and livestock, allowing the deployment of a variety of precision agriculture projects. The large forests with different species (oaks, pines, beeches...) and field extensions are a perfect place for forestry and environmental projects. Any urban project can also have its perfect scenery test in the nearby towns of Moià, Centelles, Tona and Collsuspina. Furthermore, the 14 private hectares that surround the CTC facilities can be used to install any natural or artificial target required to perform calibrations and testing. In order to quickly develop and test UAV systems a nearby workshop and airfield are a must have.
This combination allows design changes and system modifications to be undertaken since flight testing enables fine tuning of your project. With this in mind CTC integrates the following facilities:
350 x 100 meters obstacle free UAV field test
140.000 m2 outdoor surface for installing remote sensing targets
Offices
Workshop
Laboratory
Hangar
Flight control center
Camera calibration targets
Meeting room
Specialized library
UAV consultant's office
Warehouse
Kitchen
Lounge and dining room
Accommodation
We guess that even before its official inauguration in 2014, this beautiful CTC Center will be already a success in line with the booming trend of the UAV industry.
How drone uav uas etc. should be developed will have soon an easy answer near Barcelona, Spain.
CATUAV Tech Center (CTC)
Camí del Espinoi S/N
08180, Moià
Barcelona, Spain
Phone: (+34) 93 830 05 30